The personal calendar of the Oneremind app is used to record personal events like date of birth, date of the anniversary, having an appointment with a friend, etc. With Personal Calendar you can record your personal events for each day by clicking on that day.
Planning and time management software is designed to guide individuals and organizations to determine tasks and work. One Remind is one of the best planning software that you can use to manage your daily, weekly, and monthly tasks and aims.
You can install this software on PC and Windows and it helps you to manage your plans easily. The personal calendar is one of the sections of One Remind software for reminding of special events. The features of the personal calendar will be mentioned below.
Personal Calendar
A Personal Calendar is a calendar in which you can record the events you need. An event can be a great success, a sweet event, an important occasion, a special event, a fond memory, or anything else that you care about.
This calendar is an empty calendar that displays only public holidays. This feature is perfect for everyone who cares about special events. In this personal calendar, the days selected for a particular occurrence are displayed in gray, and the current day is shown in blue on this calendar. By clicking on each of the Today, Week, Month button, you can see the event related to each period.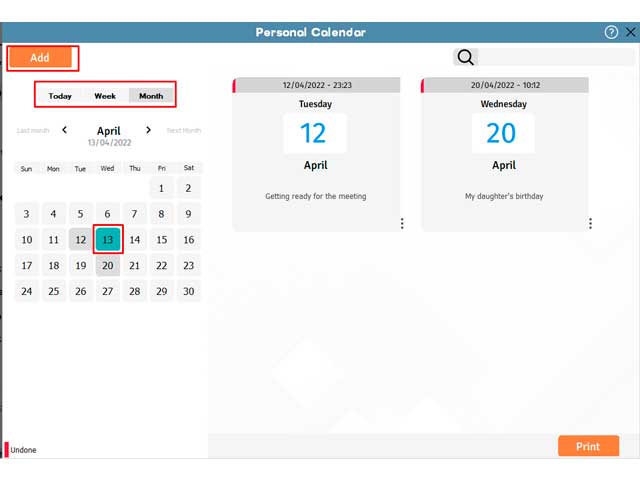 How to add a new event to the personal calendar
Click the Add button to add a new event. In the new window, specify the event you want:
Title: Write the title of your special event for this section
Date: Record the date you want to remember the event.
By enabling the checkmark for the Remind me at Another time check box, you can set another date to remember the same event.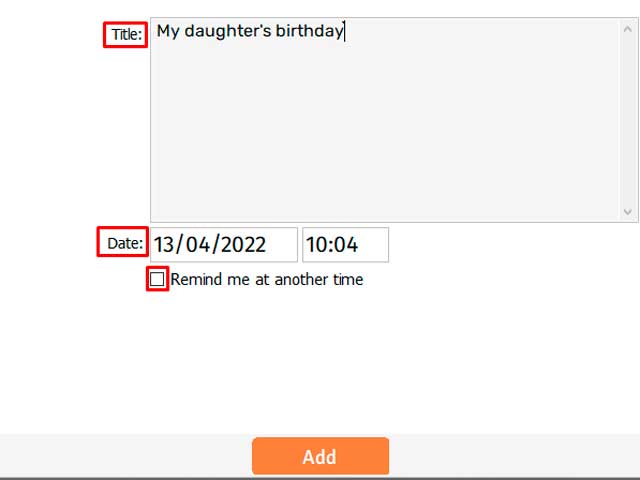 Recording daily tasks in the personal calendar
You can also record daily plans in your personal Calendar of One Remind software. For example, you can record a set of valuable tasks that have to be done like: meeting your doctor, finishing the work report, etc. With this part, you can plan all details that you have to do every day.
If you want a hard copy of your personal calendar, you can print it on A5 paper.