The daily notes part opens a note based on today's date or creates it if it doesn't exist. Using the daily notes app of OneRemind prevents delay in doing tasks and makes you more purposeful. The free daily notes section is so useful for people who want to make new habits in their lives. You can write your tasks which you want to make a habit, in a list for each day and review them in the shortest time. The daily notes section helps you to be aware of each moment.
Without a doubt, we all have a series of daily tasks like passing checks, calling customers at a specific time, appointments, birthdays of familiar people, payment of installments, and so on, that we need to remember them all or keep in a notebook. Don't worry about forgetting reminders and important events by installing the"OneRemind" software and the Daily Note part of this software.
Free Daily Notes software "OneReminder"
Free Daily Notes part is one of the important capabilities of "OneReminder" software. This section, in contrast to the notes section, doesn't have a category. You can edit or add the list of tasks for each day by clicking on the day button. In addition, if you want to have a hard copy of your notes, click on the Print button.
Related posts: What is goal-setting software?
Daily notes can include recording daily events, observations, experiences and your personal opinions about these events. Writing daily notes is an important practice for people who are interested in writing and you can use the free Daily Note app for this purpose. This section can use as a diary too.
Daily notes and self-awareness with OneRemind
Writing daily notes helps you to analyze the events. Analyzing the events, and your own or others' reactions, helps you to figure out these experiences better and you act more carefully and maturely in similar cases. Asking the following questions enables you to be more aware of yourself and your habits.
What important event caught my attention today?





what event or saying made me happy today?





What event made me sad?





What thing scared me and made me worried?





What old event did I remember by observing today's event?





What took the most time and energy from me and occupied my mind the most?





What good or admirable thing did I do today?





What were my mistakes?
like the picture below, you can write these questions in The daily note part for each day and answer them to manage your life better.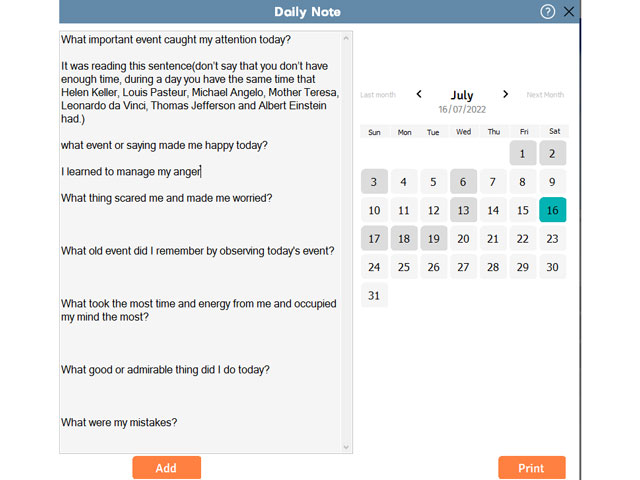 The advantages of writing daily notes
Writing daily notes helps you to increase your focus, clear your mind, specify your goals and your life path and priorities, and increase your motivation to continue, it also leaves the control of time in your hands.
To conclusion
You can use the free Daily Notes part of OneRemind software to create your journals, to-do lists, or daily logs for things you discovered during the day. The best way to organize your life by writing daily notes is to offer a report about done and not done tasks at the end of your day, and ask yourself how was the quality of work and what was the reason for not doing tasks?
If you have questions about the Daily Note app, share them with us in the comments.